Lesson Information
---
Nicole is no longer accepting new flute students, and will most likely not replace students as they graduate. She loves teaching, but her music composition career is demanding more of her attention now than before (so happy reasons!)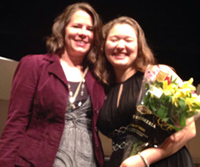 Nicole's students have:
Secured chairs in All-state band, All-state orchestra, district band, Metro Atlanta Youth Flute Choir, AYWS, MYSO, GYSO, DYSO, Suwannee Chamber Music Festival, UGA Summer Institute, Georgia Chamber Music Festival & more!
Won college music scholarships
Pursued music degrees in flute performance, music composition, & music education
Nicole's creative and engaging style of teaching has put her in demand as a clinician and has been a guest artist at Kansas State University, Colorado State University, University of Georgia, University of Wyoming, Atlanta Flute Fair, National Flute Association Convention, and more.
Nicole is also an award winning composer who includes music theory and composition in her flute lessons. She feels strongly that each student has the abililty to arrange their own music for flute and even create their own original pieces. She also believes having skills in music theory can help a student become a more informed and ultimately better musician. Nothing is presented as "because you have to", but here's how this skill will pay off.
Nicole believes in doing what she teaches. So, she has an active performing schedule and ample of experience performing in a variety of genres and ensembles. Nicole has performed with Gwinnett Ballet Orchestra, Georgia Symphony Orchestra, Johns Creek Symphony Orchestra, LaGrange Symphony Orchestra, Perimeter Flutes, at the National Flute Association Convention, and many others.
Nicole's album "Three-Nine Line" was released by MSR Classics, and its available on iTunes and Amazon.
Lessons are $30 for 30 minutes, $45 for 45 minutes, and $60 for an hour.
Have a question? Contact Nicole through the Contact page
Coaching Information
---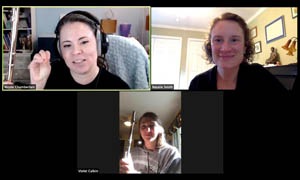 Nicole is available to musicians or ensembles who are interested in being coached in a single session or two on Nicole's original compositions, extended techniques, or feedback on other pieces from the flute repertoire.Coaching sessions are $60 for an hour. Coaching sessions are available in person at my home or on Zoom. (Traveling to a location will have a travel fee based on the distance). Contact Nicole for more information, availability and what you would like to work on.
If you would like Nicole to work with your flute or composition studio, Nicole is available as a visiting artist. She has several prepared workshops and presentations to offer, but she is also comfortable in the traditional masterclass format. Go to the Visiting Artist page to learn more.
"Pick Nicole's Brain" Session
---
A common request Nicole gets from composers and other musicians (emerging and seasoned professionals) are they want to "Pick Nicole's brain" about certain knowledge gaps or ask for Nicole's perspective on their own unique situation. Nicole enjoys working with others who are hoping to find answers on their path to fulfilling their dreams or have hit a roadblock or plateau. Nicole enjoys discussing self publishing, being an independent musician, small business, self promotion, networking, and online presence. You will find Nicole frank, open (even about money), and a good listener. Everyone's situation is unique and deserves confidential one-on-one time that feels safe and judgement free. Most of the time these sessions get pretty lengthy, and require a lot of Nicole's time. Contact Nicole for more information about pricing, availability, and what you would like to discuss. Sessions are available via zoom or in person.